The PUNCH: There are many lawmakers in the administration of President Bola Tinubu, fuelling discussions that the executive might have a huge influence on the 10th National Assembly and that if care is not taken, it could be a rubber stamp, Sunday PUNCH examines this development. The legislative arm of government is in place in a constitutional democracy to make laws for the peace, order and good governance of the country, from the local to the state and federal levels. Thus, they are expected to collaborate with the executive to deliver good governance for the benefit of the citizenry.
---
The Guardian: With about 26 days left to constitutionally nominate cabinet ministers, and as his government continues to take shape, President Bola Ahmed Tinubu, for the umpteenth time, has been reminded of the need to cut the cost of governance in line with economic current realities.
---
Vanguard: The economy is in a bind, inevitably spurring the call by the Tinubu administration for sacrifice on the part of the citizenry to pull the nation out. On his inauguration day, President Bola Tinubu removed subsidy on petrol that had cost the nation trillions of Naira as part of the sacrifice.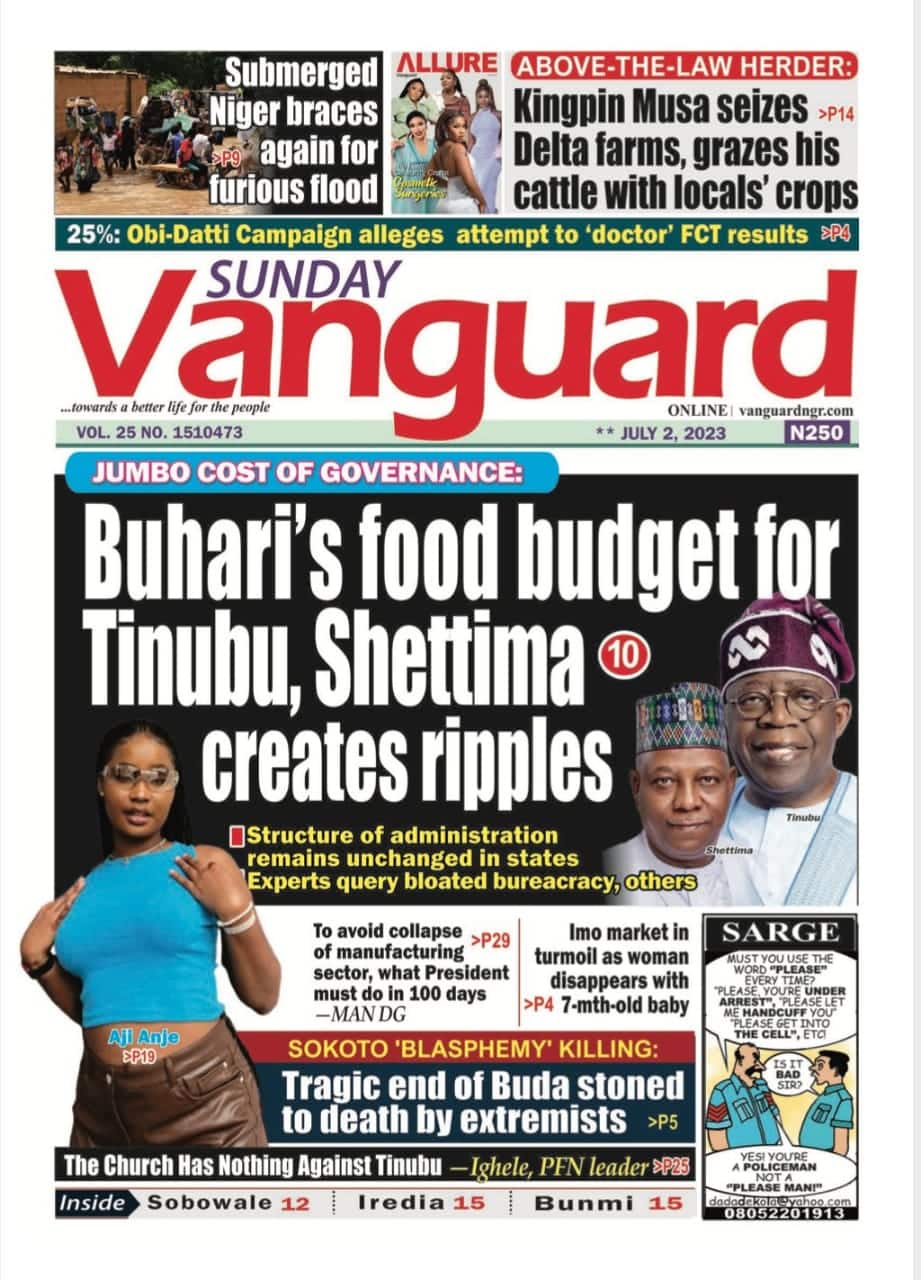 ---
ThisDay: As the members of the National Assembly resume plenary on Tuesday, July 4, after the Sallah break, the federal lawmakers have begun to intensify lobbying for appointment as chairmen and members of key standing committees considered.
---
The Nation: Private Premium Motor Spirit (PMS) depots have crashed the prices of fuel amidst speculations of a rise to N700 per litre this month. The Independent Petroleum Marketers Association of Nigeria (IPMAN) yesterday denied plan by the association to increase the pump price of petrol to N700 per litre this month.
---
Daily Trust: Air travellers are appalled that owners of commercial airlines are getting away with infractions like undue delays, cancellations, among others in Nigeria, at the detriment of their passengers without being punished.
Thank you for reading, that is all for today, see you again tomorrow for a review of Nigerian newspapers.